Before start teaching your children at home, you should follow these steps to well teach and educate your child at home. Here is the best step-by-step guide for your children to learn and read at home. We will explain how you can make your children more creative, motivational in their future life. Whether you are a parent, teacher, or elder in your family, you can follow this strategy to teach your children with fun.
You are responsible for your children's future. So be careful. Some people don't make any plans before teaching their children and this way they make many mistakes and boring stuff for them. In this way, their children lose interest in the study. You have to make your teaching interesting, fun, and kind.
Everyone is not a born a teacher as it is a God-given skill. But, you can learn it through some research and study on google and YouTube. I will suggest some free resources for the teaching skills you can improve from there.
When your child is at home, you're the teacher, trainer, and mentor for them. You have to think like a teacher to teach your child effectively. This is will be not difficult if you adopt a strategy which I'm going to share with you. The following steps will help you to teach your child at home:
Here are top 10 Tips to teach your child to read at home:
Tips to Educate Your Children at Home
1. Make a Schedule: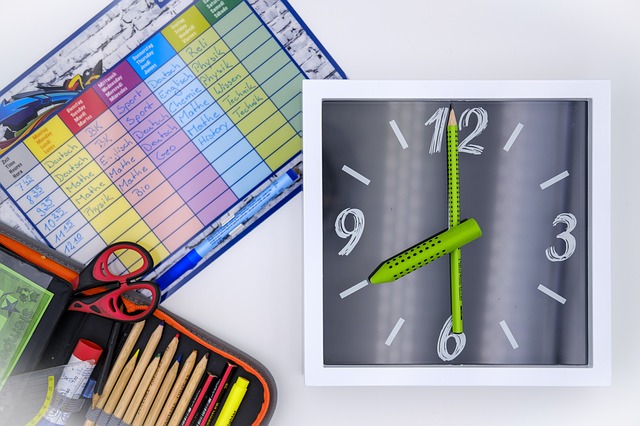 First of all, you should plan a schedule for your child's education.
A schedule makes your child punctual and well-mannered. Keep in mind your own daily routine activities and your child's study time, fun, and hobbies as well. Either he/she goes to school or not. Also, You can ask your child what activity you will choose to do first. Every child is not the same in learning and picks the topic you are teaching to them. Without any schedule, you and your child will go out of track.
You can make a monthly, weekly, and daily timetable. Keep in mind that teaching is not always a pen and book. You should schedule some extra curriculum activities and hobbies for them because these are most important for their education as well as for physical and mental health. If possible, connect with the parents who are already teaching at home. They will share their experience and you will get a lot of help to schedule plans for children.
While making a timetable, keep them engage in real-time learnings. Their hobbies, Physical games, Video games, TV shows for children are helping for learning. You should plan it on schedule. But you should limit these activities. This will keep your children active and energetic for their studies.
You can use a paper or mobile app for your scheduling. Use reminder apps and a clock that can help you follow the timetable.
2. Arrange a Study Place:
It is important to choose a place where you can teach your child. If you can manage a separate place can help you to set the routine and distraction-free environment for homeschooling.
There should be proper lighting and Timetable on the wall and a mini library bookcase.
Helping material for you and your child also.
For you, a dictionary, whiteboard, marker, a wall clock, a calculator, and others as you need at that time.
For children, a rack for storing bags and books, decorate with graphics, learning, and motivational quotes, world globe map, table, and chairs according to your child age. This will keep your children active and energetic for their studies.
Now scroll for the reading and writing strategies:
3. Don't be Complex, be Simple and Smart:
While teaching a toddler, child, or any older, always adopt a simple and smart way of delivering.
Your goal is to teach and well-understand the knowledge which you are going to deliver. The goal is not to impress by adopting a complex method and high vocabulary against your child.
You should choose appropriate wording, a simple sentence, and a polite tone of your behavior. You can explain math and other topics on a whiteboard. Ask them, do you got it? Before moving to the next step you should ask your children either they got it or not? If not, first clear the basic concepts and proceed to the next.
Read also: Make Child Interested in Studying
4. Make Teaching Interesting and Fun:
i. Toys for Learning:
There are thousands of toys are available online and on the market. Toys are specially designed for kids that while playing with them they learn a lot from them. You can buy toys according to the age of your child. Because the study shows that physical curriculum activities are a more helpful source of learning as compared to books.
ii. Offer them DIY (Do it yourself):
It is an important part of learning new things and be creative in life. Give them an opportunity to make decisions, make mistakes, and solve problems. You have to set some activities like toddler coloring books, cardboards, letters arrangement, and rewriting, etc.
iii. Don't be boring:
Examine either your child is getting bored or not. If yes, try a different way to teach. Make sure you are following your children's interests. A different angle of delivery may help them excited to read. You can surprise them with some funny and unexpected events and gifts. You know your child best. Find your child's interest and give them the opportunity to do as they like.
Offer them Mobile and tablets for games and movies. But keep in mind the content they are using from Technology.
If your child wishes for a movie, say yes, we have movie time which will be counted as their leisure time activity. Also, limit Screen time for your child.
Allow them to adopt Hobbies, Spin a Hula-hoop, Juggle a few objects, Drawings, Physical games, Card games, Drawing Art, DIY, watch movies together, Incorporate music for their interest.
iv. Rhymes for Kids:
Nursery rhymes are helping invaluable educational tools, rhymes develop their memory and pick fast new things. Just need to go on YouTube and type Nursery Rhymes for Math, English, or any other topic you are going to teach.
You can download it on your mobile or PC and give your child to keep enjoying. You can write down in timetable schedule in the gaming box.
5. Behavior Plan:
You should adopt a very kind and friendly behavior with your child every time. In this way, they will admit and follow what you will expect from them. Be patient every time you're delivering anything. Every child is not intelligent and the same as other children learning.
Also, keep in mind their behavior with others. You have to make them well-mannered and respectful men. You are going to polish their future and both of your behavior is important for their future life.
6. Pomodoro Technique:
You have to set a time for one subject and take a short break. The Pomodoro technique is a plan of study in terms of timing.
Choose one topic to work at one time.
Set a timer for work according to your time (20 to 25 minutes).
For time period, give 100% attention to the topic.
After this period, take a short break.
Now, continue the topic until you finish.
7. Arrange Study with Friend's Group:
Best friends are key factors and cause of motivation for studying. You have to engage some intelligent, well-guided friends for your kids. This will be a source of learning and motivation for all friends.
Allow them to play together, study together, share ideas, gardening in partnership, cycling and playing physical games.
8. Use Technology to keep your child involved:
In this modern era of IT, learning how to teach at home is not a problem. There are a number of platforms and mobile apps that can help you and your child in teaching and studying.
You can download free and paid courses and different apps for kids. Mobile apps, Tablets, projectors, and electronic toys can help kids in learning. It is a good way to learn with fun.
9. Reading Skills Improvement:
In order to develop successful reading follow these key points:
Phonics: Connection between letters and sounds.
Reading comprehension.
Read together on a daily basis and ask questions about the book
Tell Interesting Stories to develop reading interest.
Make simple word cards.
Give them a physical example out of the book for understanding.
Explain the Actual meaning of words and sentences.
Make coloring activities/games for better memories.
Letter arrangement, Letter Choosing from List, and games for Mathematics.
Hearing and reading stories can help them in concepts of logic, judgment, and relationships.
Practical experiments for Science subjects.
Pronunciation and vocabulary for English subject.
Videos with sounds that make a sketch in mind.
Use graphics and illustrations for their interest.
Give them the opportunity to ask a question.
You can add it to the schedule plan.
10. Writing Skills Improvements:
Daily writing Exercises on different subjects.
Give them mini-whiteboards for writing.
Regularly check their work and correct their mistakes kindly.
Take outline print of letters, alphabets, and basic words from your PC or from the market and give them for practice. With a Pencil in hand, he will focus on staying on the correct lines.
You can add it to the schedule plan.
There are more steps you should follow.
Free resources for parents, teachers and students:
Signup to Khan Academy Website as Parent, Learners, or Teachers.
Khan Academy Mobile app for android and iOS.
Read More:
How to Make Your Child Interested in Study?
Pros and Cons of Group Study | Advantages and Disadvantages
Is Over Studying Bad for Health?
How to Impress Your Students as a Teacher | Impressive Teaching Skills