Are you looking for the best Authentic Islamic Knowledge websites for learning and researching Islam? Here is a list of the top authentic and trusted websites owned by Islamic authorities. In this modern age of IT, learning Islamic knowledge is not much difficult but in an authentic way. If someone wants to seek Islamic knowledge, he/she just needs internet access.
There are too many sources available which they are delivering their own way. There are free Islamic organizations for spreading Islamic teachings. Everyone is teaching according to their own way.
A number of sects are delivering fitnah. A very big caution is to stay aware of Qadiani, non-Muslims. They are non-Muslims but pretend to be Muslims. Qadiani is also known as qadiyani, Ahmadi, Ahmadiyya Muslim, Lahori Qadiani and mirzai. So, be careful when going to learn online.
Before suggesting to you some authoritative Islamic websites, I want to discuss the importance of seeking and spreading Islamic knowledge.
Read more: Top 20 Halal Passive Income Ideas
Importance of Seeking and Spreading Islamic knowledge
In Islam, there are many evidence and virtues of seeking, acquiring, and spreading the knowledge of Islam, that can be found in the Quran and the hadith of Allah's last messenger Mohammad (ﷺ).
"Recite: In the name of thy Lord who created man from a clot. Recite: And thy Lord is the Most Generous Who taught by the pen, taught man that which he knew not." [Quran, 96:1-5].
"Are those who have the knowledge and those who have no knowledge alike? Only the men of understanding are mindful. " [Quran, 39:9].
"طَلَبُ الْعِلْمِ فَرِيضَةٌ عَلَى كُلِّ مُسْلِمٍ"
"Seeking knowledge is an obligation upon every Muslim."
"طلب العلم من المهد إلى اللحد"
"Seek knowledge from the cradle to the grave."
I will discuss this topic in two main parts:
List of Most Authentic Islamic Websites
List of Fake Online Islamic Websites
List of Authentic Islamic Websites, Blogs, and Other Resources
To suggest you best Islamic websites, I prepared a list of the most authentic and trustable online websites. These are the best resources to learn about Islam.
These websites are specialized in a particular field and differ in functionality. Some of them are emphasizing Quranic knowledge and Arabic, and some on Hadith and Shareeha. Some websites are for Islamic questions and answers, and some are for kids. So, I tried to cover all different aspects of the religion Islam.
Online Quran and Hadith Learning Websites
Quran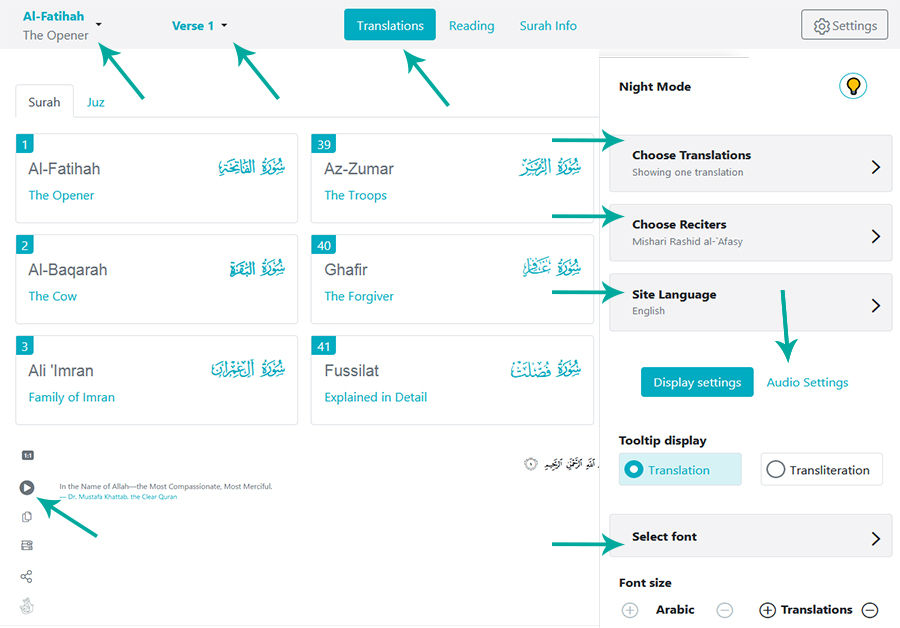 Quran Online contains a list of all 114 Surahs of the Quran in order.
You can search by Surah or Juz (Parah).
There is an option for Tafseer (Explanation of Quran) is available in 60+ languages like Arabic, Russian, Bengali, Urdu, and English.
A search option for any specific topic or word from the complete Quran is available.
An audio option for listening to Quranic verses from different reciters.
You can copy or share the verse on Facebook, Whatsapp, Twitter, telegram, messenger, and on some more platforms.
Different font sizes and languages are available.
Also, apps for android and ios are designed for users.
10+ reciters
10+ site languages
Different font styles and an option for custom font sizes.
The related websites are https://quranicaudio.com/ and https://legacy.quran.com/
Corpus Quran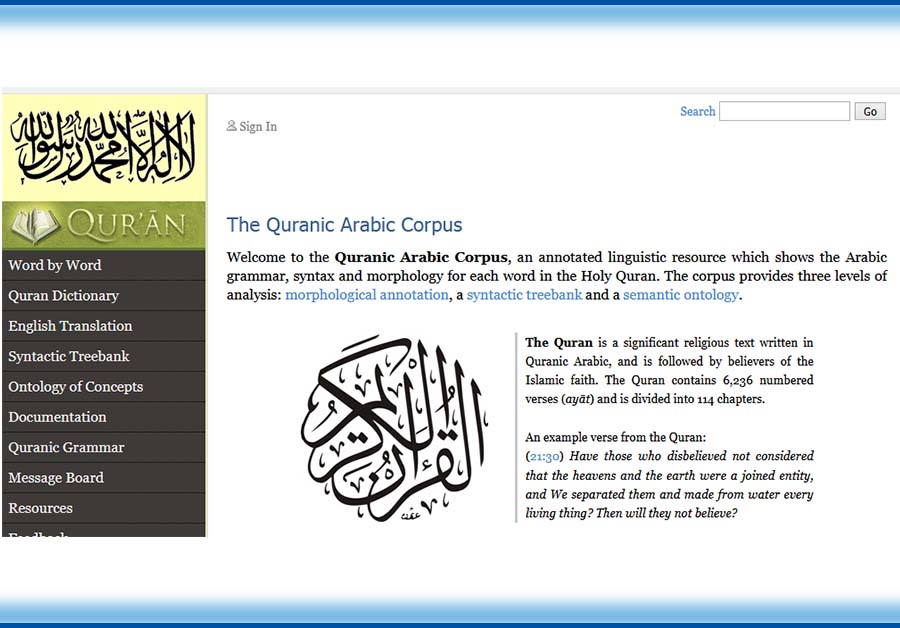 From this online platform, you can learn the Quran word by word.
Quran dictionary is available.
Complete documentation with Quranic script, morphology, and syntax.
Syntactic and ontology of concepts
Complete Quranic grammar with nominal, verbs, Phrases and Clauses, Adverbial Expressions, and Particles.
Understand Quran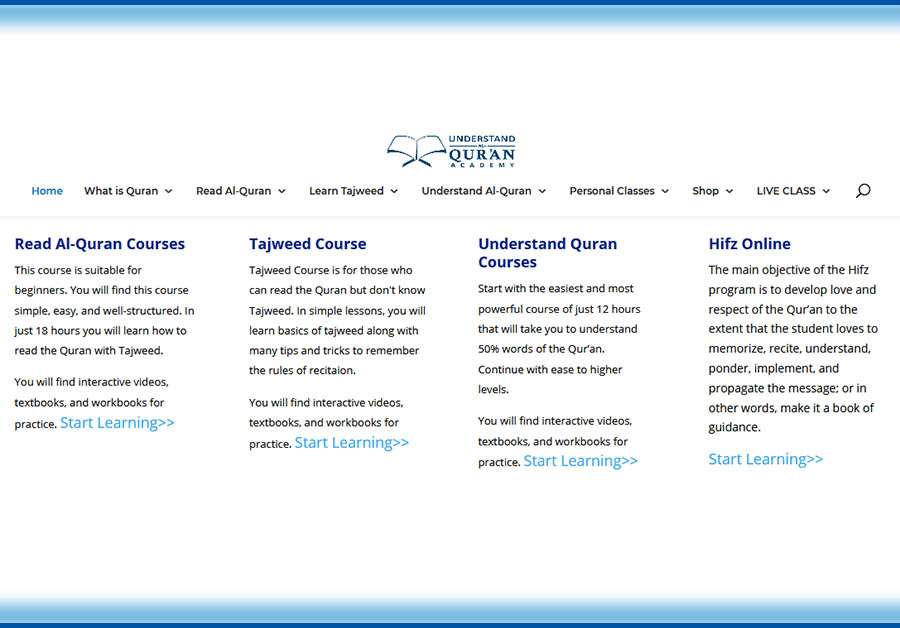 "www.understandquran.com was launched in 1998. Since then we are constantly striving to make learning the Qur'an simple, easy and effective by developing courses and related materials. Our level 1 course on understanding the Quran (50% of Qur'anic words) is being taught in almost 25 countries and is translated into 20 international languages. The syllabus is now implemented in more than 2000 schools." Source understandquran.com
Quran courses, Tajweed courses, Hifz online, etc.
For Teaching Quran courses. Training, teacher blog, teaching tips.
Sahih al-Bukhari, Sahih Muslim, Sunan an-Nasa'i Sunan Dawood, Sunan Ibn-Maja, Tirmizi, Mota Malik, and Masnad Ahmad are available.
Hamari Web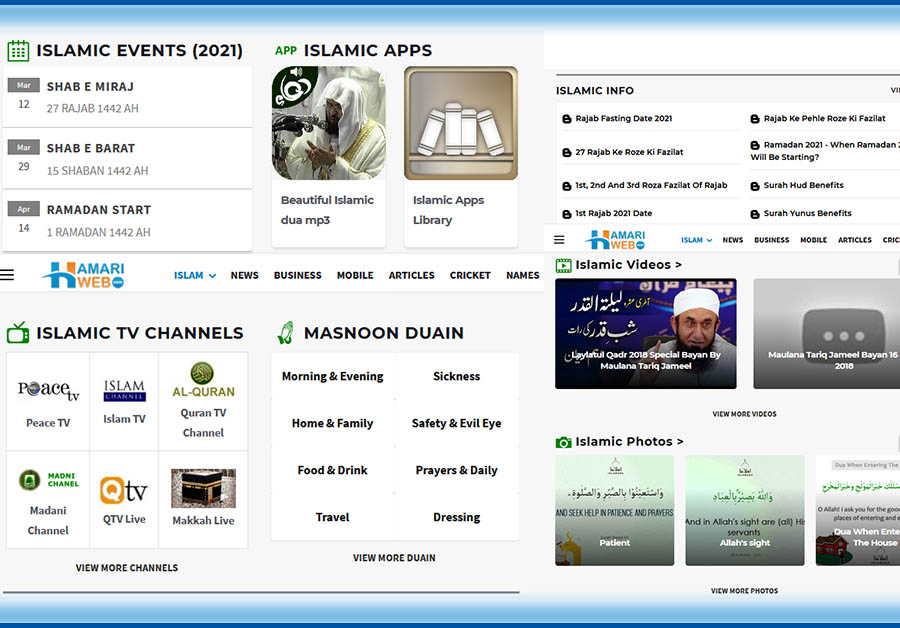 Famous for Quran and Hadith learning in Arabic, English, and Urdu.
Option for surah and ayah search
Hadith Books Urdu and English
Famous Naat khawans
Prayer timing
Ramadan timing
Islamic events
Masnoon dua
Islamic videos and photos
Recommended website with helpful functionality.
Read more: How to Convince Someone to Convert to Islam?
Dawat e Islami:
Dawat e Islami is the best authentic Islamic website in Pakistan. This website is another most authentic and recommended with respect to Islamic teachings and preachings. It is available in English and Arabic languages. You can also get courses and books online from dawateislami website.
Hadith Collection
All authentic and famous Imaam's books on Hadith are available.
Categorized on the basis of topics and volume.
Sunnah
All authentic and famous Imaam's books on Hadith are available free of cost.
Categorized on the basis of topics.
With English translation.
Sahih al-Bukhari, Sahih Muslim, Sunan an-Nasa'i Sunan Dawood, Sunan Ibn-Maja, Tirmizi, Mota Malik, and Masnad Ahmad are available.
Islam Web
Useful for learning, Quran recitation, lectures on different topics like fiqh, Aqeeda, history, Prophet Muhammad() and many more by subject and author.
Fatwah, E-books, and articles on Islamic questions.
Minhaj TV
Al Islam
Recommended in every aspect of Shareeha guidelines.
al-Islam is different from alislam. alislam.org is a fake site.
Urdu Point
Some more Islamic Information:
Islamic Question Answering Websites
Here is a list of Islamic websites for asking questions.
1. Islam Question Answer Info:
Most famous and recommended website for your Islamic questions.
You can search topics by category.
16 supported languages included English, Arabic, Urdu, German, Turkey, and Persian.
Can ask questions.
Books and articles.
2. Islam Question Answer Organization:
This is another very helpful website for your questions.
You can ask your question according to specific Fiqh like Hanafi, Maliki, Shafi'i, and Hanbali.
Online Islamic Courses Websites
Top 6 Islamic Blog Websites