Do you want to turn your couch or bed into a personal office? An adjustable laptop desk is a great way to get work done in an easy way.
If you are using a laptop on daily basis, then this list of the best adjustable and portable laptops stands for couches is for you.
Whether you're a pc gamer, student, or professional looking to increase productivity in work, a good Laptop stand will help resolve ergonomic failures. This will not only improve your posture but also have an immense impact on your productivity too.
Aside from this, using a laptop stand will bring you benefits like saving your laptop from overheating, extra storage space, and using it as your coffee or study table.
Even if you don't have a dedicated home office, lap desks and portable laptop tables are excellent alternatives to traditional desks.
There are many different types of laptop stands available that you can choose from. These laptop tables for couches are stylish, sturdy, durable, convenient to move around, and easy to set up.
I've prepared a list of sturdy, adjustable, easy-to-use, and affordably-priced lap desks that are perfect for working from bed or the couch. You can also use these tables on the floor or bed. Here's a list of the __ best adjustable laptop stands you can work with from a bed or couch.
Best Adjustable Laptop Desk for Couch & Bed
1. Seville Classics Airlift Height Adjustable Laptop Desk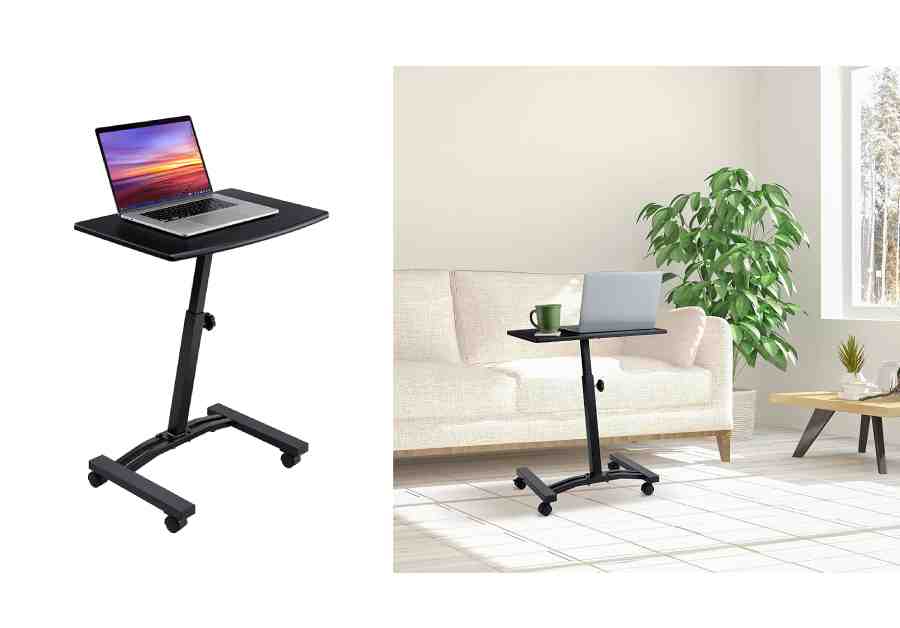 Starting my list with Seville Classics Airlift height-adjustable laptop desk for your home office. Seville Classics is my top recommended adjustable laptop table for the couch. It's a great desk-style cart for homes, offices, and classrooms. You can also use this table as a standing desk.
It's also perfect as a rolling and portable laptop desk for your home.
You can manually adjust the height from 20.5″ to 33″ to create a customized and ergonomic workspace.
With the casters on the desk cart, you can easily move it to any room in your home, office, or apartment. You can lock two of them to make sure the desk remains in place. The desk has a sturdy steel frame finished in black for long-term durability and easy maintenance. It's designed to fit every sized laptop.
Features & Advantages
Manual height adjustment up to 33″ tall
Includes 4 casters (1.5″ diameter) with 2 locking
Available in four different shapes (Check)
Available in multiple colors
Overbed, couch Styles
Affordable price
Cool Simple design
Cons
---
2. HUANUO Adjustable Laptop Stand-Up Desk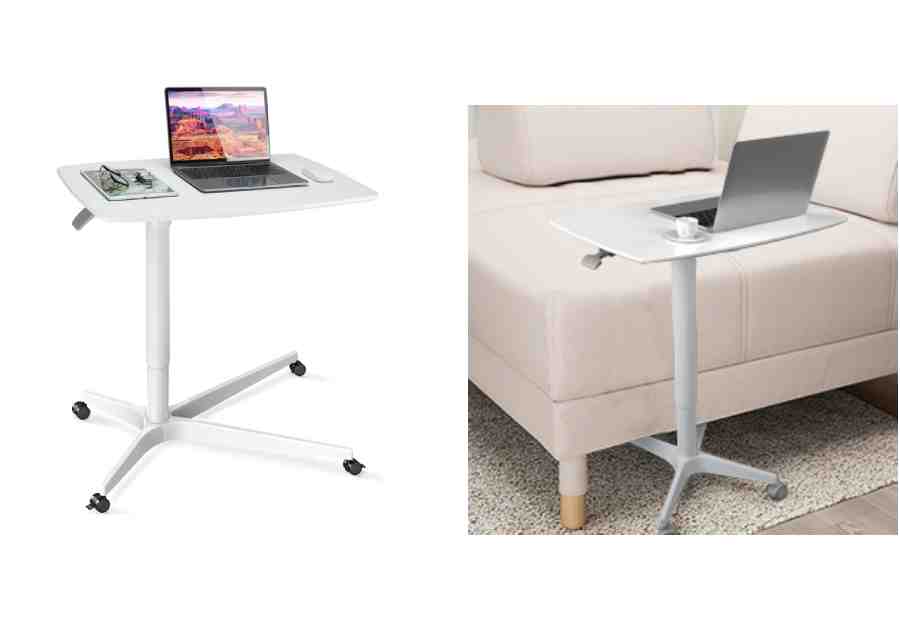 HUANUO Adjustable top-quality mobile standing desk is another best desk for couches. HUANUO is an ideal portable workstation for any professional or student. If you want to use a laptop or other devices in total comfort, you can do so at home, on a sofa, in a bed, in an armchair, or in a gaming chair.
You can use this lap desk to break the sedentary work habit, reduce strain on your neck and shoulders, and relieve pressure on your back.
It raises and lowers smoothly from 24.5″ to 37.5″ with an easy-to-use side handle thanks to its powerful gas spring lift system.
Besides having plenty of space for both laptops and tablets, this surface is also suitable for reading books, painting, using a mouse, and using an external keyboard.
Furthermore, HUANUO adjustable rolling laptop desk is equipped with 4 heavy-duty swivel casters (2 of which are lockable) that are easy to steer where you want.
Features & Advantages
High-quality & Sturdy
Stylish
Height adjustable from 24.5″ to 37.5″
The surface measurements are 30″ x 19″
Waterproof surface
Movable: 4 heavy-duty swivel casters
2 Lockable casters
Nice cool white color
Used for: Study Room, Office, Bedroom, Classroom
Cons
---
3. Tribesigns Snack Adjustable Laptop Table with Rolling Cart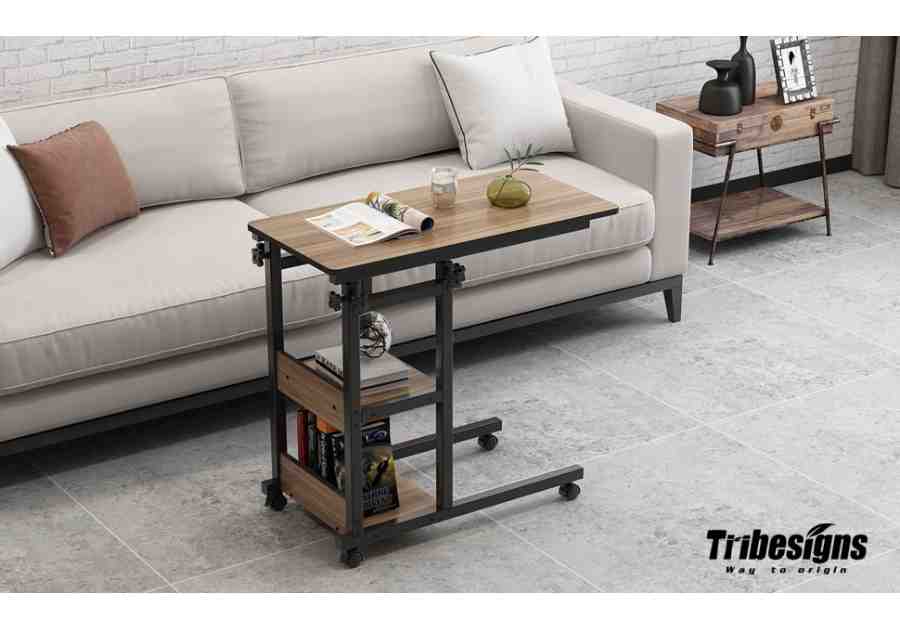 The Tribesigns snack rolling table is a multipurpose cart that is also perfect for your laptop and studying. It is equipped with stackable compartments beneath the surface tray.
It is an amazing moveable laptop desk that works well as a laptop table, bedside desk, overbed table, sofa side table, over couch table, and a mobile end table for coffee next to the couch.
Two-tier shelves underneath provide additional space for convenient storage of your work essentials. You can also slide the table anywhere you want. Its height can be adjusted from 28.3″ to 35.4″ and it can also be rolled around on four casters.
If you want a table with additional storage that could be used as a dining table, study table, computer table, and more, then I will suggest you buy this Tribesigns Snack Adjustable Multipurpose Table.
Features & Advantages
Stackable compartments
18-month quality assurance
Two-tier shelves
High-quality & Sturdy
Made with: Metal, Wood
Adjustable from 28.3" to 35.4"
Spacious Desktop: 31.5″L x 15.7″W
Available in two different colors
Movable: equipped with 4 casters
Lockable Casters
Cons
---
4. Able Life Adjustable Couch Desk for Laptop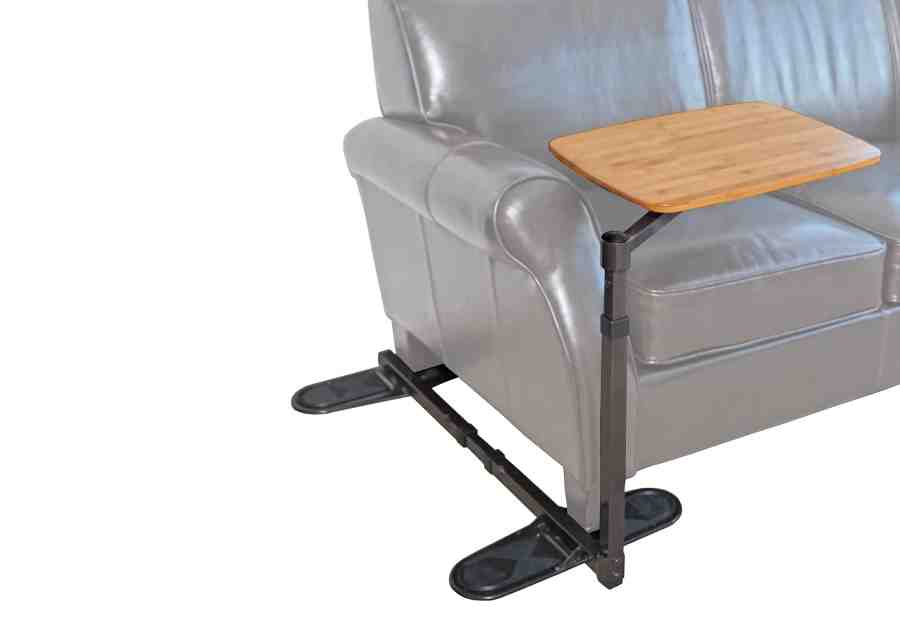 This 360° Able Life Swivel Laptop Tray is designed with a sturdy bamboo tray that reflects a unique style of furniture. This desk is compatible with your furniture.
This is a uniquely designed table that you can use for your laptop on a sofa or couch. You can adjust the dual-sided rubber pads to fit the distance between the front and back legs of your furniture, maintaining the integrity of your floors.
This adjustable desk could be pivoted to the couch's side, occupying no space. The tray measures 20x15in and is adjustable in a height. The base can be adjusted from 25" to 35".
Features & Advantages
Well-designed
Sturdy
Easily adjustable
Compatible with your furniture
Placed on either the outside or inside of the pads
Beautifully finished
Cons
---
5. SAIJI Portable Desk (K7M-W)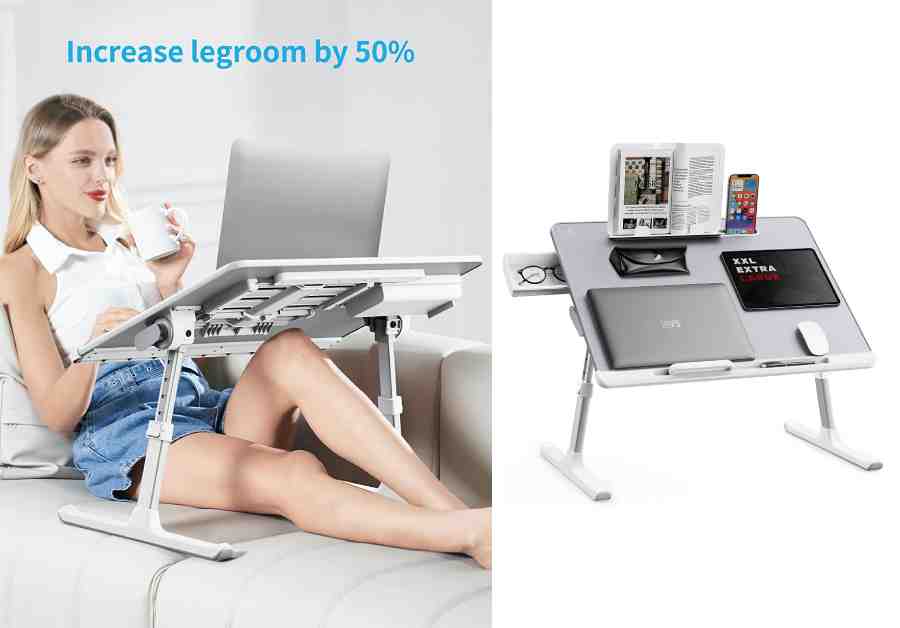 SAIJI's Adjustable, Portable, and Foldable Laptop Desk take things to the next level with adjustable feet, a tilt, and a pop-out drawer for flash drives, cables, or other accessories.
You can use this desk to work from the couch, bed, or on the floor. When you're ready to store it away, the entire desk folds in on itself to create a flat shape.
You can store your laptop accessories and cables in its handy storage drawer. The laptop desk is equipped with a removable laptop stopper that can hold your laptop in place, as well as a large groove at the back that accommodates both a smartphone and a tablet.
This laptop table features a textured PVC leather surface that is sturdy and allows traction so that your laptop will not slide around.
The laptop desk's height is adjustable from 10.7″ (27 cm) to 15.1″ (38 cm). It can be adjusted in four positions. It can be tilted to four different positions: 12 degrees, 24 degrees, and 36 degrees.
Furthermore, with three color choices and a modern design, this laptop desk will blend in with most living room or bedroom decor.
Check Also: 22 Working Ideas to Earn Money Online for Students
Features & Advantages
Internal storage drawer and sleek design
Lots of holders
Portable and adjustable
4 adjustable angles(from 0°-36°)
5 different heights (from 10.6″ – 15.4″)
Enormous desk space
Two auto-lock buttons
Light but sturdy
Comes with three color options
12-month replacement warranty
Cons
The price may be high due to high quality and a bundle of features
---
6. Neetto Laptop Height Adjustable Bed Table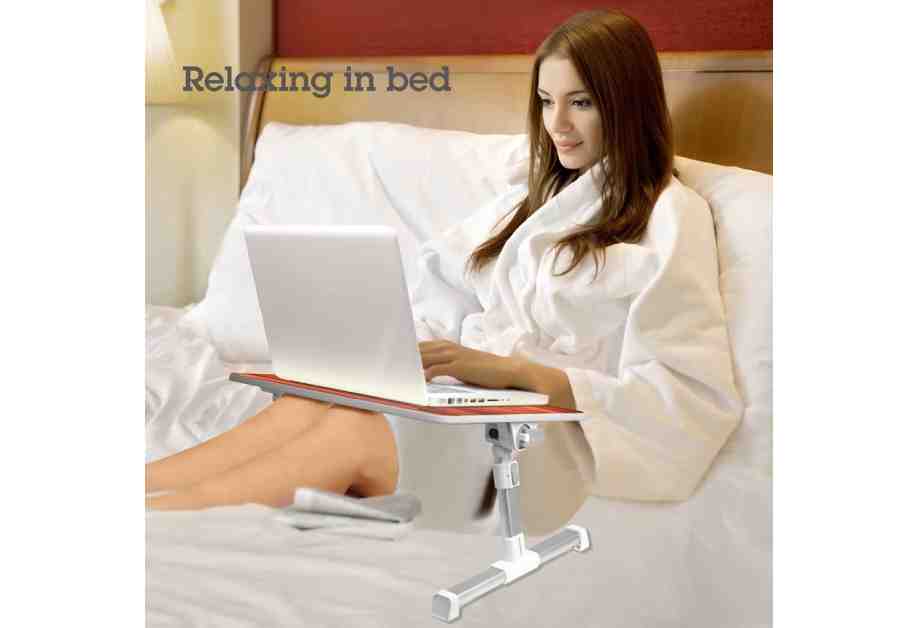 The Neetto Adjustable and Portable Table is a great addition to your home office. Whether you're using it for yourself or your kids, this portable desk fits almost anywhere you need to work
The table has three functions: it can hold a large laptop, extend over your legs, and tilt. Whether working on your couch or your bed, you'll have even more legroom by raising your desk and adjusting its angle.
This desk has five height levels and angle adjustments up to 30 degrees.
You can easily enable height changes (from 9.4″-12.6″) using two auto-lock buttons on each side. You can also adjust the surface angle from 0 to 35° by pulling a lock button and releasing it once you've reached the desired angle.
Plus, you can fold it flat for easy storage which is amazing.
Features & Advantages
Easy to carry: Goes Where You Do
Flexible, Portable, Adjustable
Lightweight design
Two auto-lock buttons on each side
Adjust the height (from 9.4″-12.6″)
Adjust the surface to a 35-degree angle
Cons
---
7. Amazon Basics Adjustable Laptop Tray Table
Whether you're working at a standing desk or from your couch, this Amazon Basics Adjustable Laptop Tray is ideal for virtually any work-from-home setup.
The whole desk folds into itself to create a flat shape so it can be stored in a closet or cabinet until it is needed again.
This AmazonBasics laptop table can be adjusted between 9.4 inches and 12.6 inches in height, and it can be tilted between 0 degrees and 36 degrees for a more comfortable viewing angle.
Features & Advantages
Holds the laptop well
No assembly required
Lightweight
Portable
Stylish
Versatile
Affordable
Cons
Legs quality, not perfect
---
8. Leeboom Adjustable Laptop Stand – Cheap Stand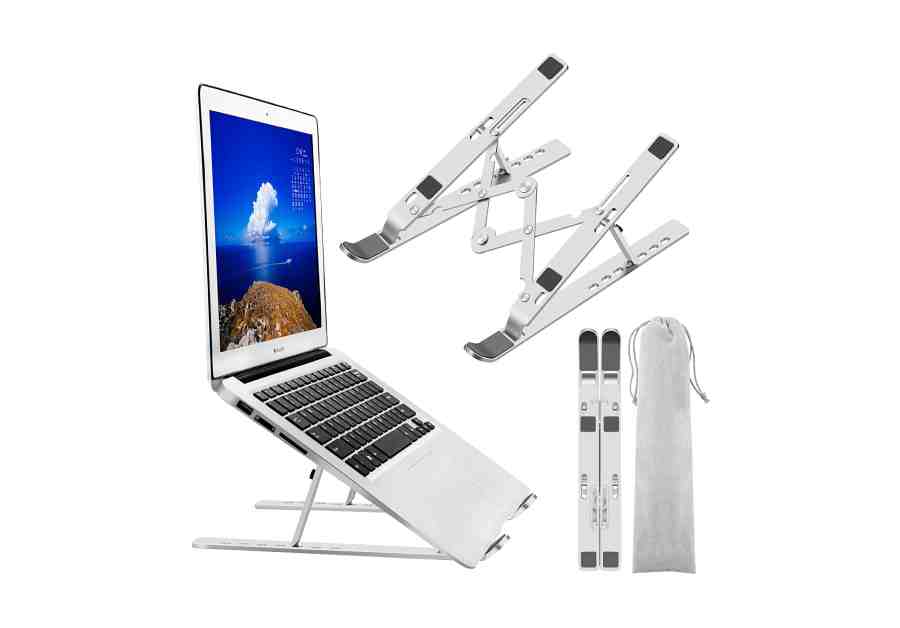 Leeboom Adjustable Laptop Stand is the most affordable and unique style stand that you can use for your laptop on a couch or on the floor.

It's adjustable through seven different angles between 15 and 45 degrees.
With non-slip silicone pads that prevent scratches and prevent your laptop from sliding, you can also ensure plenty of ventilation inside the case. Thanks to the stand's weight of 0.6 pounds, you can use it inside and outside the home, and it takes up just a little room.
Although a cheap stand won't do anything fancy, it's certainly better than using nothing at all. If your budget is low, then you can pick up the Leeboom adjustable laptop stand for the price of a few cups of Tea.
Features & Advantages
Very inexpensive
7 adjustable heights
Portable
Foldable and Lightweight
Sturdy and Protective
Good Ventilation and Cooling
Cons
---
9. LapGear Home Office Lap Desk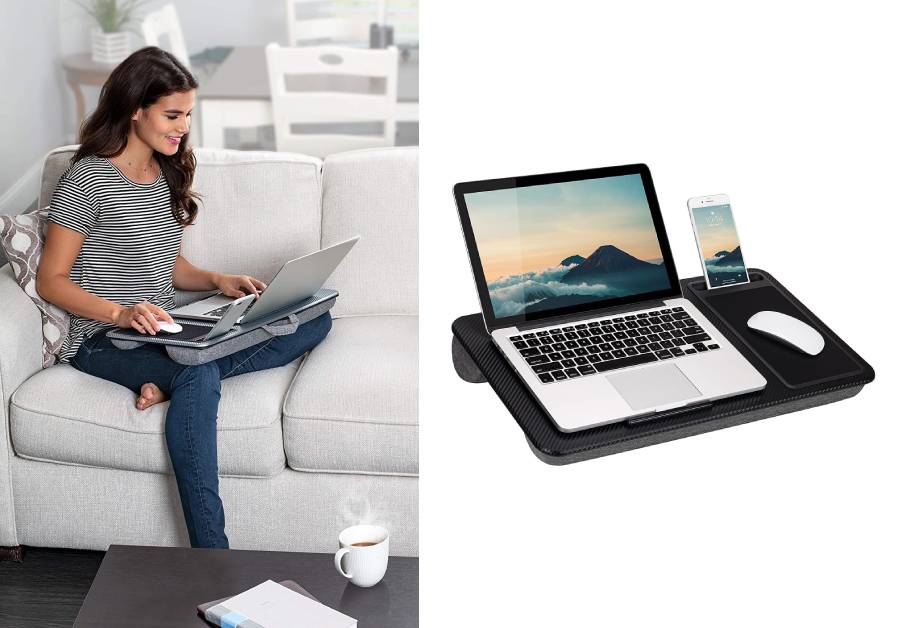 The LapGear is another best lap desks for those that want to work from the couch.
Under the desk, two cushioned compartments allow airflow for comfort, so it doesn't get too hot sitting on it.
LapGear Home Office Lap Desk is available in black, pink, grey, white marble, dark brown, light brown, and a number of other colors. There is also a phone holder just above the mouse pad that is very handy when you are studying or working.
Features & Advantages
Enough room for both a mouse and a laptop
Slot for a smartphone
Easy to move and store
Lower price point
Ideal for mouse users
Bottom cushion
Wrist pads for added comfort
Cons
Cushioning material can spread out over time
No legs
---
10. HUANUO Portable Lap Desk with Pillow Cushion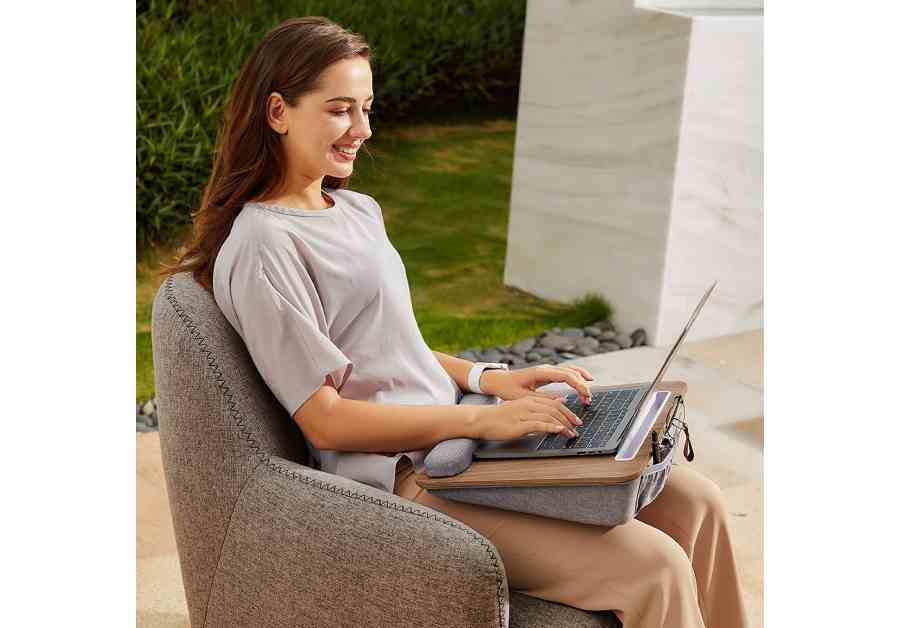 HUANUO is an alternative to the LapGear laptop desk.
Featuring a wood-grain table and thick gray cushions, this pick is contemporary in appearance. The desk has a wrist pad, cup holder, mouse pad, and pencil slot, and can accommodate up to a 17-inch laptop.
Features & Advantages
Enough room for both a mouse and a laptop
Slot for a smartphone
Easy to move and store
Lower price point
Bottom cushion and wrist pads
Cons
No legs and medium quality
---
11. Mind Reader Adjustable Lap Desk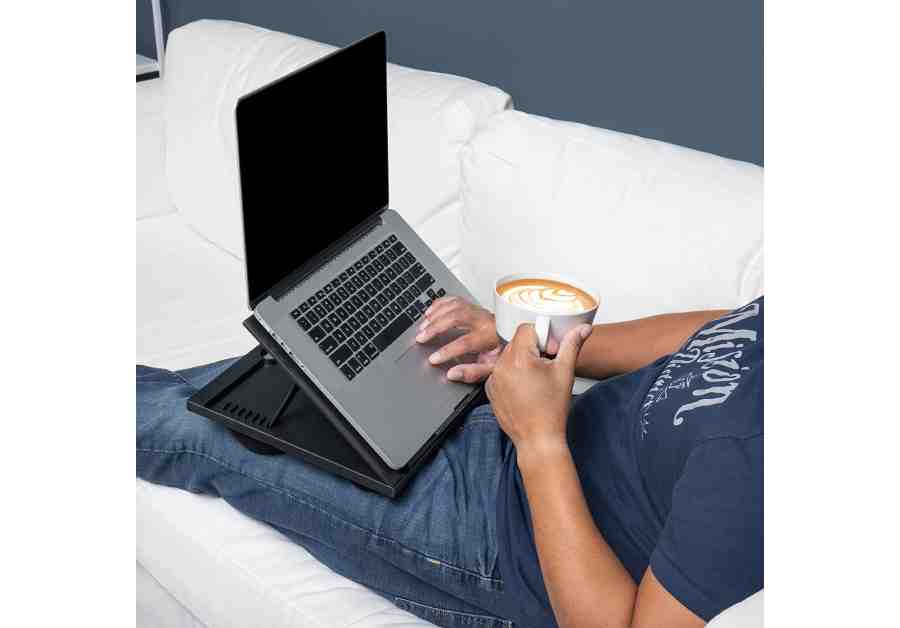 Mind Reader is another low-cost lap desk on my list of adjustable laptop desks. It has all the basics to make your work-from-home experience better.
I love its ultra-soft cushions and eight adjustable positions.
With 8 angle options, you can use this stand hands-free and enjoy optimal viewing. The easy pop-up lip holds your computer, laptop, tablet, book, or drawing device in place while you are using it. While studying, working, reading, and enjoying entertainment, this 8-position laptop desk table will help alleviate neck and back pain.
Its easy-carry handle and compact construction allow endless uses around the house, in the office, in the dorm.
Features & Advantages
8 Position Lap Top Desk Table
price-friendly
portability
Cons
---
12. SIDUCAL Adjustable Laptop Stand-Up Desk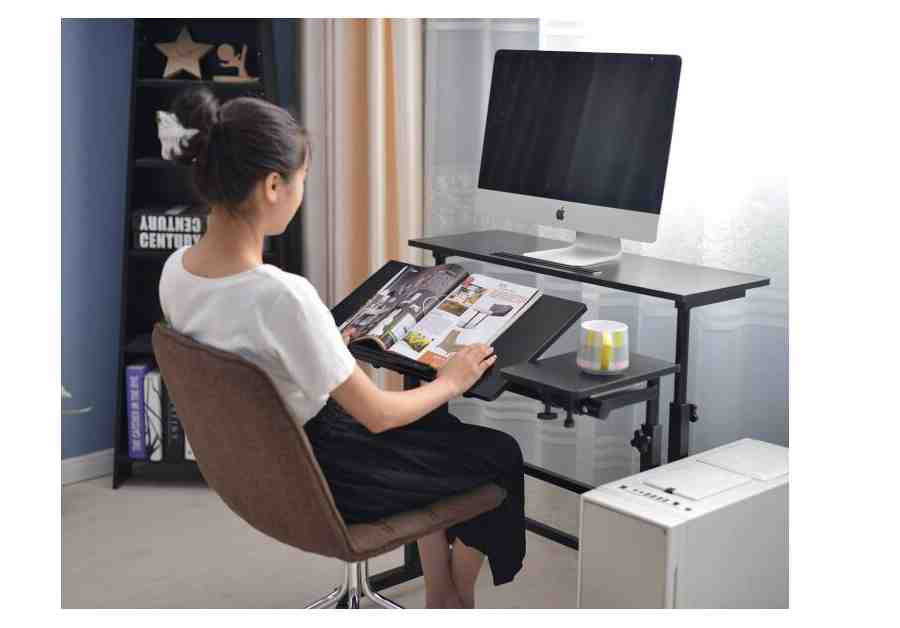 This laptop stand is perfect for people who want to use their laptop while standing else of sitting on a couch or bed. Featuring a welded metal frame and high-quality materials, this standing workstation is rock solid, durable, and stable.
Rolling standing desks are portable and can be used as office workstations in the study or over the bed tables in bedrooms, as well as end tables next to sofas.
The height of the mobile stand-up desk can be adjusted from 27.5″ to 45.3″, and it has four flexible wheels so you can move it anywhere you like.
---
13. HUANUO Folding Laptop Table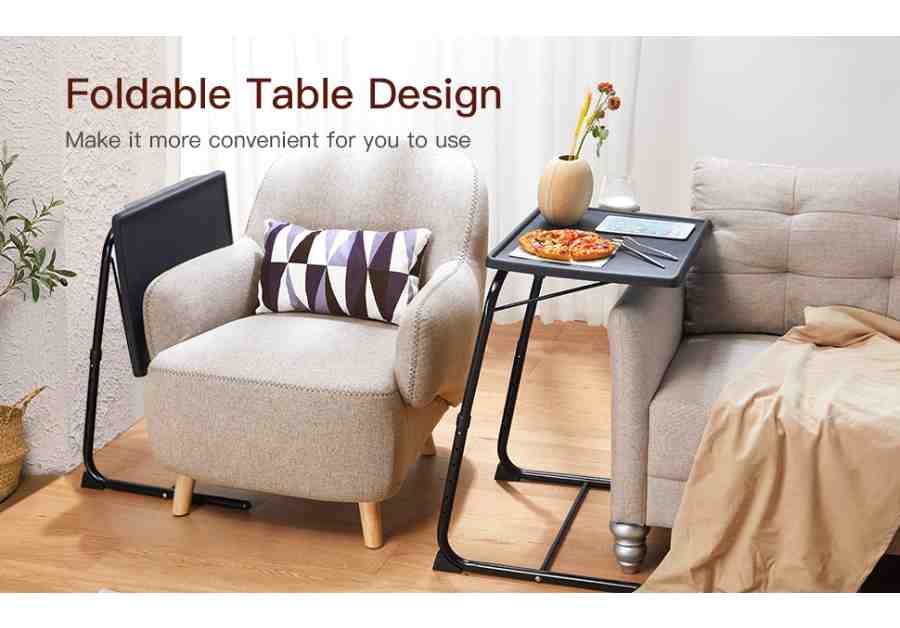 This laptop table comes with a really cool and useful feature: built-in cup holders.
It is comfortable to use this table while seated on your sofa or bed, and its height can be easily adjusted to make it as comfortable as possible whenever you need it.
The Laptop tray can be adjusted from 20.8″ to 28″ in height. With three tilt positions, you can keep the tray horizontal or angle it up and down. You can easily find the most comfortable position based on your position.
---
14. Viozon Couch and Floor Stand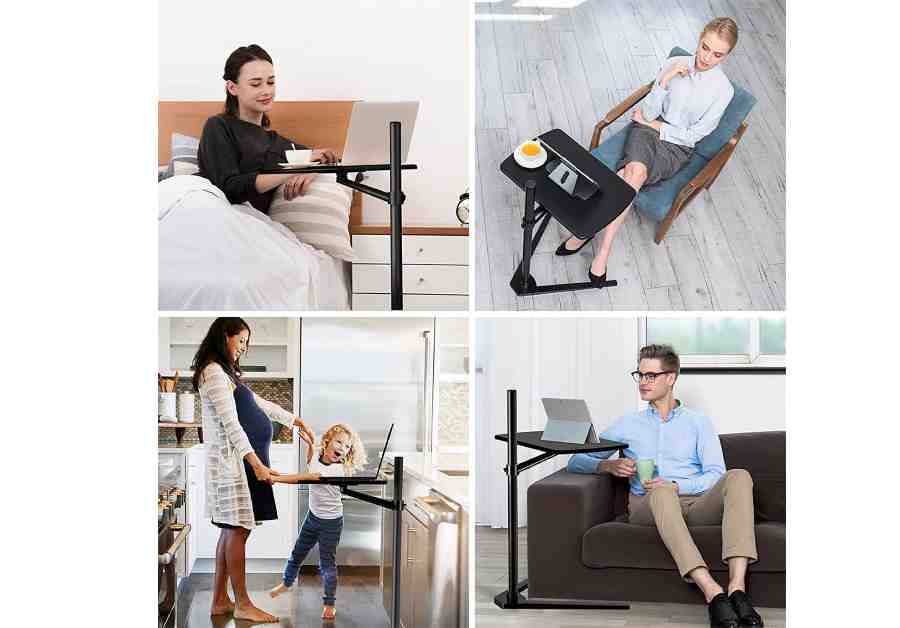 Viozon Floor Stands give you the flexibility to work in bed, on the couch, or anywhere you can find a bit of space, no matter where you are.
This stand has a central aluminum pole on top of a pair of wide, angled feet that helps prevent the stand from moving while still fitting under a chair, bed, or couch.
You can adjust the height of the tray to sit anywhere between 30-90cm (roughly 12-35′′), so it works well for most seated or reclining positions.
Features & Advantages
Sturdy
Flexible usage options
Plenty of height adjustability
Room for a mouse as well
Cons
Doesn't extend far enough for use as a standing desk
---
Why you should use a Laptop Desk on the Bed/Couch?
Working on a couch might cause serious health issues.
Long-term use of laptops on couches can negatively impact your back, posture, and productivity.
On a laptop, you have to look down, so your neck and muscles are strained
Beds, couches, bean bags, and sofas require bending and have insufficient support, making it impossible to use a laptop without stressing the spine
As long as your eyes and laptop are at the same level while sitting, your wrists will have a terrible time keeping up with the keyboard height
You can get neck, wrist, and back pain from hunching over a low table, lounging on a couch, or simply using your laptop at odd angles for long periods of time.
The soft fabric of a blanket that you hold over your lap blocks the laptop's vents
Dust gathers in the intake vents, chokes your device, and results in poor airflow
Using a highly adjustable, and customizable laptop desk is a perfect solution to these problems.
A good lap desk can provide a comfortable angle for your wrists, and back and can protect your body from painful injuries. It can adjust your screen to eye level and prevent strain on your neck and back.
Featuring an adjustable height, these stands allow you to adjust the height to your personal preference without sacrificing comfort and posture. In addition to being compact, some include features such as a separate section for the mouse, cooling fans, or storage spaces.
Benefits of Using a Laptop Stand
Here are some benefits of using a laptop stand.
Better Posture:
Using a laptop desk can help you maintain a perfect posture studying, reading, gaming, or doing your office work. In the long run, bending up and holding the screen at eye level can lead to a bad position that can cause pain if not positioned properly.
By using a laptop stand, you can bring your laptop screen to eye level and not have to look directly at it or keep it at an uncomfortable angle.
Reduced heating:
Most laptop stands are equipped with a cooling fan or ventilation hole, which can prevent overheating and protect the laptop from overheating.
Typing Ergonomics:
Laptop computers are typically designed to be compact with very little room for typing. When typing, there is almost no space to rest your wrists, which makes prolonged use tiring.
An ergonomically designed broad-surface laptop stand can provide additional support to your hands while typing. With an adjustable laptop table for couches, you'll be able to let your computer rest on a flat surface without any danger of wrist or neck injury.